Click Link To Watch
The guy who unleashed that racist tirade on his Black neighbor — before getting hauled
away by cops — could have more trouble on the horizon … as prosecutors in New Jersey
dig into past allegations of similar incidents.
Sources with direct knowledge of the case tell TMZ … Edward Cagney Mathews is being
investigated by the Burlington County Prosecutor's Office … not just for last week's ugly
run-in and arrest, but for several other allegations — including a 2016 confrontation
with a Black woman named Jazmyn Jene.
Jazmyn tells us she exchanged words with Mathews within the condo community where
they both lived, and she captured a good chunk of their wild — and seemingly
threatening — interaction on camera.
In the video, Mathews openly claims to have cops in his back pocket, and he's giving
Jazmyn 2 options: handle a dispute they were having cordially, or legally. He strongly
suggests the legal route won't work, because he's so tight with cops … they wouldn't do
anything to him.
Eventually, things get racial — Jazmyn accuses him of hurling the n-word — which
Mathews somewhat denies by clarifying he did use the word, but not the way she's
suggesting. You can see in the video … it's a pretty weak defense.
Now, she says she did report the incident at the time, but nothing came of it. However,
since Mathews' arrest — as scores of angry neighbors jeered and hurled objects —
Jazmyn says investigators have apologized to her for not acting earlier.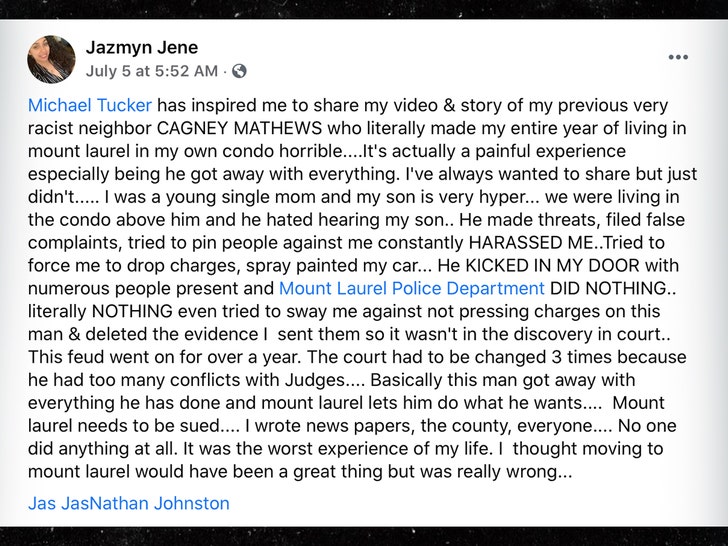 We're told Jazmyn has shared the video of her run-in with Mathews with law
enforcement, and it will be included in prosecutor's expanded probe.